Sell or Auction Your JH Speke Autograph Letter Signed Re Nile for up to Nearly $10,000 or More at Nate D. Sanders Auctions
FREE APPRAISAL. To buy, auction, sell or consign your JH Speke autograph letter signed re Nile that is for sale, please email your description and photos to [email protected] of Nate D. Sanders Auctions (http://www.NateDSanders.com).
Sell Your JH Speke Autograph Letter Signed Re Nile
Captain John Hanning Speke (4 May 1827 – 15 September 1864) was an English explorer and officer in the British Indian Army who made three exploratory expeditions to Africa. He is most associated with the search for the source of the Nile and was the first European to reach Lake Victoria (known to locals as Nam Lolwe in Dholuo and Nnalubaale or Ukerewe in Luganda).
Below is a recent realized price for a JH Speke autograph letter signed re Nile item. We at Nate D. Sanders Auctions can obtain up to this amount or more for you:
JH Speke Autograph Letter Signed Re Nile. Sold for nearly $10,000.
Here are some items that our auction house, Nate D. Sanders (http://www.NateDSanders.com), has sold:
Karl Bodmer Prince of Wied's Travels in the Interior
Stunningly beautiful collection of 81 hand-colored aquatints by the Swiss artist Karl Bodmer, a complete collection from the illustrated travelogue, "Prince of Wied's Travels in the Interior of North America". Bodmer, who journeyed with the German Prince Maximilian of Wied-Neuwied from 1833-34 along the Missouri River, produced what is considered the best depictions of the indigenous peoples and landscapes during the frontier era, an America then still unspoiled by western migration. Of the Native American tribes of the Great Plains that they encountered, Bodmer's depictions of the Blackfeet and Mandan tribes are especially important as the populations of these tribes were greatly affected by the smallpox epidemic of 1837, thus making Bodmer's work the last visual testament to their culture.
Prince Max, as he was called, chose Bodmer to accompany him on the expedition along the Missouri River to visually depict the scenes that the Prince would write about. The result is this collection: three volumes of text by the Prince and two volumes of aquatints by Bodmer, in the first Paris edition published by Chez Arthus Bertrand, 1840-43 ("Voyage dans l'interieur de l'Amerique du Nord"). Text volumes in French also include 37 wood-engraved illustrations, only lacking the map in completeness. The two complete volumes of illustrations include the large folio volume with 48 oversized hand-colored aquatints measuring approximately 24.5″ x 18″, and the quarto volume with 33 hand-colored aquatints measuring approximately 12.5″ x 10.25″. The complete set of 81 aquatints is magnificent in their display, a time capsule with their hand-coloring evoking the sense of awe and discovery of the expedition. All volumes are bound in half black morocco and blue paper-covered boards with gilt accenting, and with black morocco labels to illustrated volumes. Minor handling wear to volumes, with a few small repaired tears to plates, some plates supplied with variance to margins, minute toning and foxing, a few plates beginning to separate from binding. Overall a very good plus set with excellent display quality. Sold for $175,000.
Meriwether Lewis 1807 Document Signed Related to the Famed Lewis & Clark Expedition — Lewis Receives 5 Months Pay From the Expedition Upon Returning to D.C.
Very scarce Meriwether Lewis document signed "Meriwether Lewis Capt. / 1st U'S. Regt. Infty." Single octavo page, dated 12 February 1807 reads in full: "Received February 12th 1807 of Caleb Swan Paymaster of the Army of the United States, Two hundred dollars, in pursuance of a warrant from General Henry Dearborn Secretary of War, No. 1003, being on account of my pay and subsistence, for which sum I am accountable to the Accountant of the Department of War, having signed duplicates hereof. 200 Drs." In January 1803, President Thomas Jefferson sought to learn more about the far western territory, and appropriated the money from Congress for the proposed journey, to be led by the experienced explorer Meriwether Lewis. In his memoirs, Jefferson wrote of Lewis:
"Of courage undaunted; possessing a firmness and perseverance of purpose which nothing but impossibilities could divert from its direction; careful as a father of those committed to his charge, yet steady in the maintenance of order and discipline; intimate with the Indian characters, customs, and principles; habituated to the hunting life; guarded by exact observations of the vegetables and animals of his own country against losing time in the description of objects already possessed; honest, disinterested, liberal, of sound understanding, and a fidelity to truth so scrupulous that whatever he should report would be as certain as seen by ourselves…" ("History of the Expedition," 1814). In the months immediately preceding the expedition, Lewis sought training in the use of astronomical instruments and in the art of map-making. He also chose a companion officer, William Clark of Louisville. While the expedition did not achieve the primary objective of finding the elusive Northwest Passage, it contributed significantly to the understanding of the geography of the Northwest and produced approximately 140 maps, the first accurate maps of the area. In addition, it documented 100 newly discovered species of animals, approximately 170 plants, and it also established friendly relations with three dozen Indian tribes. The knowledge they obtained sparked American interest in the west, and strengthened the nation's claim to the area. Meriwether Lewis returned to Washington, D.C. from his three year journey in late December of 1806. After returning from the expedition, Lewis received a reward of 1,600 acres of land. In addition, Thomas Jefferson appointed him Governor of the Louisiana Territory. However, Lewis was not confirmed by the Senate until March 1807 and he remained a Captain in the interim. Base pay for Captains at this period was $40 per month so the present receipt would represent five months' salary. A supremely rare document directly linking Meriwether Lewis to the Lewis & Clark Expedition. Items of Lewis & Clark related to the famed expedition are of the utmost rarity. Docketed on verso. Toning to folds and showthrough, otherwise near fine condition. Sold for $30,768.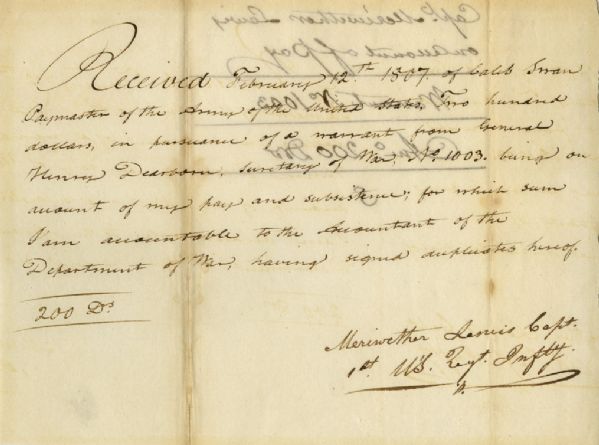 Meriwether Lewis Signed Appointment as Governor of Louisiana From 1808 — Very Scarce Signature, Dated 2 Years After the Lewis & Clark Expedition
As Governor and Commander in Chief of Louisiana, Meriwether Lewis signs his full name in black ink to a document, appointing George Armistead to the position of "Justice of the Peace for the township of Arkansas, District of New Madrid" on 18 May 1808. Armistead would later become the Commander of American forces during the bombardment of Fort McHenry in the War of 1812. Lewis' signature is very scarce as he died of a gunshot wound in 1809, with few documents signed by him as Governor of Louisiana during his 2-year tenure. Document is also one of the few after his expedition from 1804-1806 with William Clark, which charted the newly acquired Louisiana Territory for the United States, a highly dangerous mission but successful mission. Document retains its paper-covered seal and is co-signed by Secretary Frederick Bates, who later became Governor of Missouri. A great Lewis and Clark autograph. Measures 12.5" x 7.75". Document has been archivally repaired at left panel, small tears at edges of folds, tape to top of left panel, overall very good condition. Sold for $24,513.
Ernest Shackleton & Crew Signed "The Heart of the Antarctic. Being the Story of the British Antarctic Expedition 1907-1909" Limited to Just 300 Copies, This Being All Three Volumes — Scarce
Ernest Shackleton's signed copy of "The Heart of the Antarctic. Being the Story of the British Antarctic Expedition 1907-1909, 3 volumes (including "The Antarctic Book Winter Quarters 1907-09"), limited to 300 copies (here #273), also with signatures of the entire Shore party. Photogravure frontispiece, numerous plates (including 6 etched plates by George Marston, 16 tipped-in color after George Marston, others mostly photographic), one folding panorama and three folding lithographed maps in pocket at the end of volume three, illustrations and diagrams in the text. In publisher's vellum, blocked in gilt with design of two penguins and top edges gilt. Occasional light spotting and small tear on cover of volume two. Overall in very good to near fine condition, signed by the Nimrod Shore Party crew. Sold for $12,718.
Important 17th Century First Edition of "America: Being the Latest and Most Accurate Description of the New World" — Includes 75 Engravings of American Geography, Animals & Native People
One of the most important books on the history of America (cited by Borba de Moraes, Howes, Sabin and Wing), the 1671 first edition of "America: Being the Latest and Most Accurate Description of the New World". Privately printed in London by the author, Arnoldus Montanus, and edited by John Ogilby. In "America" Montanus goes into great detail of the new continents, with dozens of engravings of Native Americans, species of animals and reptiles, and the landscapes and settlements in the new world, accompanied by text. The book covers speculation regarding the earliest voyages to America, along with later recorded voyages and the settlements of New Netherlands/New York, New England, Hudson's Bay, Labrador, Canada, Nova Scotia, Maryland, Virginia, (including Captain Smith's capture and rescue by Pocahontas), Carolinas, Florida and California, plus accounts of Mexico and nearby islands, even including Australia and New Zealand. 674pp. book contains 75 original engravings (64 copper plates within the text and 9 plates throughout), lacking the maps and 28 engravings, which is typical as this edition is almost never found with all plates intact. All text is complete except for missing pages 445-446. Large format book measures 10" x 15". Bound in original full leather boards, with some loss of leather to covers, cracking along spine and front board detached. Interior text is near fine and very readable. An important and fascinating addition to early knowledge of the American continent. Sold for $9,375.
Very Scarce 1814 First Edition of "History of the Expedition" Lewis and Clark Account — With Five Engraved Maps — First Edition Account of Landmark Expedition
First edition, two-volume set of "History of the Expedition under the Command of Captains Lewis and Clark to the source of the Missouri thence across the Rocky Mountains and down the river Columbia to the Pacific Ocean performed during the years 1804-05-06 by Meriwether Lewis and William Clark". Published by Bradford and Inskeep: New York: 1814. Regarded as the definitive account of the first exhaustive, and most important Western exploration of America, which covered some eight thousand miles in slightly more than twenty-eight months. Lewis and Clark brought back the first reliable information about much of the area they traversed, made contact with the Native Americans as a prelude to the expansion of the fur trade, and advanced the geographical knowledge of the continent. This official account of the expedition is as much a landmark in Americana as the trip itself. Books, each measuring 5.5" x 8.75", are bound in original marble-patterned leather boards and have five engraved, bound-in maps, missing the fold-out map found in some copies. Covers are worn and scuffed and the inside of covers have insect channels. Vol. I, 470pp., is missing the front free endpaper and has a chip out of the title page. Volume II runs 522pp. Light foxing and dampstaining throughout both volumes and some paper loss not affecting text. Overall in very good condition. An attractive set of America's most important exploration narrative. Sold for $6,544.
Robert Falcon Scott Typed Letter Signed on "British Antarctic Expedition 1910" Stationery Asking New Zealand to Overturn Its Refusal to Allow James Mackintosh-Bell From Joining Expedition
Robert Falcon Scott autograph on a typed letter as Captain of the 1910 British Antarctic Expedition, now known as the ill-fated Terra Nova expedition. On official letterhead dated 7 January 1910, Scott asks Expedition Advisory Committee member Sir Archibald Geikie for his help in persuading the New Zealand government to allow geologist James Mackintosh-Bell to join the expedition. Mackintosh-Bell declined Scott's offer to join the 1901-1904 British National Antarctic expedition (Discovery) and, when this letter was written, was director of the Geological Survey of New Zealand. Scott writes this two page letter, hoping "…to have a statement from some scientific authority that Mr. Mackintosh-Bell would be a valuable addition to the Expedition staff and possibly that his knowledge of the geology of New Zealand would especially qualify him for work in the Antarctic continent…" He signs, "R.F. Scott" as well as making two handwritten corrections in the typed text of the letter. The approach failed (and thus saving Mackintosh-Bell's life), and Bell remained in his position until 1911, but the letter is typical of Scott's proactive attempts to bolster the scientific expertise of the expedition. Two sheets, measuring 8″ x 10″, are stapled in upper corner. Light creasing and a few tiny stains, else near fine. Sold for $4,353.
"Through The Dark Continent" Inscribed by Henry M. Stanley in the Year of Publication
Henry M. Stanley signed copy of "Through the Dark Continent", published by George Newnes, Ltd.: London: 1899. In two volumes, volume I is neatly inscribed by the celebrated explorer/author: "This very first printed copy of the 1899 edition is presented to Miss Gourand on the eve of her marriage. With the best wishes of the author. Henry M. Stanley. June 1899". Stanley, who purportedly uttered the memorable line "Dr. Livingstone, I presume?" upon discovering the Scottish missionary, led many expeditions through Africa. This memoir covers two of his more famous ones: the 1874-1877 journey from the mouth of the Congo River to Zanzibar and the ill-fated Emin Pasha Relief Expedition of 1886-1890. Books have pictorial red cloth and gilt boards depicting the scene of an historic river rescue and are full of illustrations, engravings and maps, including one fold-out map. Each book is tightly bound and measures 7″ x 9.75″; Volume I runs 400pp. and Volume II runs 419pp. Restored pastedowns and endpapers, some tearing at joints and expected shelf wear. Very good condition. Sold for $1,542.
Rare Original Parchment Document For the Pardon of An English Prisoner From British Penal Colony Van Dieman's Land, Tasmania — Signed by Renown Arctic Explorer & Prison Governor Sir John Franklin — 1842
Original parchment entitled "No. 511, William Bowtle, His Pardon, No S" for the pardon of English convict William Bowtle from the British penal colony of Van Dieman's Land, Tasmania. Document signed by Arctic explorer and Governor of Van Dieman's Land, Sir John Franklin. Document measures approximately 13.5″ x 7.75″. Overall toning, soiling and wear to document. Document also contains several vertical and horizontal creases: one vertical crease passes through autograph, but does not inhibit legibility. Overall good condition. Sold for $1,320.
Dr. David Livingstone Autograph Letter Signed From 1857 — During His Brief Stay in England Between African Missions
Dr. David Livingstone letter signed while traveling in England on a speaking tour. Livingstone writes to an unknown recipient from Leeds on 10 October 1857: "My arrangements having been completed for the next two weeks I am sorry that I cannot accept your very kind invitation to York and I hear there is no prospect of my enjoying the pleasure of a visit for some time to come…David Livingstone". Two page letter, front and verso, has five small binding holes and dampstaining at left edge, and light smudging including to signature. Overall very good condition. Sold for $1,250.
David Livingstone and Henry Stanley Autograph Lot — From the Earliest Days of African Exploration
Autograph letter signed and signature by Henry Stanley and David Livingstone, the pair of English explorers who famously crossed paths in Africa. Two piece lot includes: (1) very bold "David Livingstone" signature and date of "29th Sept. 1857" upon a sheet measuring 4.25" x 7.25", and (2) autograph letter signed by Henry Stanley reading in part, "…I should be charmed to attend the society but I fear Sunday is too early…Henry M Stanley". Single page letter on card-style stationery, dated 9 June 1878, measures 5" x 8". Typed catalog captions mounted to top edges of both, and light toning, else near fine. Sold for $938.
Consign your item at Nate D. Sanders Auctions. Send a description and images of your item to us at [email protected].
FREE APPRAISAL. To buy, auction, sell or consign your JH Speke autograph letter signed re Nile that is for sale, please email your description and photos to [email protected] of Nate D. Sanders Auctions (http://www.NateDSanders.com).