Sell Or Auction Your 1941 Citizen Kane One Sheet Style A Movie Poster for up to Nearly $40,000 or More at Nate D. Sanders Auctions
FREE ESTIMATE. To buy, auction, sell or consign your 1941 Citizen Kane One Sheet Style A Movie Poster that is for sale, please email [email protected] or call Nate D. Sanders Auctions (http://www.NateDSanders.com) at (310) 440-2982.
Sell Your 1941 Citizen Kane One Sheet Style A Movie Poster
Citizen Kane is a 1941 American drama film by Orson Welles, its producer, co-screenwriter, director and star. The picture was Welles's first feature film. Nominated for Academy Awards in nine categories, it won an Academy Award for Best Writing (Original Screenplay) by Herman J. Mankiewicz and Welles. Considered by many critics, filmmakers, and fans to be the greatest film ever made, Citizen Kane was voted as such in five consecutive British Film Institute Sight & Sound polls of critics, and it topped the American Film Institute's 100 Years … 100 Movies list in 1998, as well as its 2007 update. Citizen Kane is particularly praised for Gregg Toland's cinematography, Robert Wise's editing, Bernard Herrmann's music, and its narrative structure, all of which have been considered innovative and precedent-setting.
1941 Citizen Kane One Sheet Style A Movie Poster. Sold for nearly $40,000.
Nate D. Sanders Auctions has sold the following similar items:
Original Oscar Awarded to Herman Mankiewicz for Writing "Citizen Kane" — The Only Academy Award Won by "Citizen Kane," Voted the Greatest American Film of All-Time
An incredible piece of Hollywood history and memorabilia. The only Oscar won by "Citizen Kane," voted the greatest American film of all-time by the American Film Institute. Mankiewicz received the award for best original screenplay with the visionary director, writer and actor, Orson Welles, on 26 February 1942 at the Biltmore Hotel. The duel credit to Welles and Mankiewicz would be hotly disputed by both parties, critics and their peers. Influential film critic Pauline Kael attributed Kane's screenplay to Mankiewicz, particularly offensive to the "one man band" credit Welles was receiving for the film. Rumors materialized publicly that Welles had tried to pay Mankiewicz off, in exchange for Welles to take all the credit for himself. Mankiewicz stated in a letter to his father, "The fact is that there isn't one single line in the picture that wasn't in writing – writing from and by me – before ever a camera turned." The Screen Writers Guild ended the initial debate by decreeing a joint credit on the film but historians still debate whose hand penned which lines of the seminal 1941 masterpiece. Two engraved plaques are placed on opposite sides of the Belgian marble pedestal. One reads, "Academy of / Motion Picture / Arts and Sciences / First Award / 1941". The other reads, "Academy First Award / To / Herman J. Mankiewicz / For Writing / Original Screenplay of / 'Citizen Kane'". The figure and film reel, composed of gold-plated britannium measuring 10.5″ tall, top the pedestal, bringing the total height to 12″. The pedestal's diameter measures 5.25″. The award weighs 7 pounds, 5 ounces. Some tarnishing to statue, primarily to the leg area of the figure. The green felt backing under the pedestal is slightly wearing away around the edge. Overall in very good condition. Sold for $588,455.
Orson Welles Screen-Used Trophy From "Citizen Kane" — the Iconic Trophy That Orson Welles Holds During the Film, Symbolizing the Height of Kane's Power & Ambition — Measures 1.5 Feet Tall
The rarest and most spectacular of all "Citizen Kane" props, the silver-plated trophy presented to Orson Welles as Charles Foster Kane, which he holds in the critical scene upon his return from Europe, flush from acquiring diamonds and his first wife. This trophy is the singular one manufactured for the film (unlike the Rosebud sled, of which three were made), thus guaranteeing its use in the film, held by Welles himself as Kane. The trophy was given to Kane by the employees of his newspaper, which grew from a handful when Kane acquired the near-bankrupt "Inquirer," to 467 at this point in the film. Trophy is engraved, "Welcome Home / Mr. Kane / From / 467 Employees / of the / New York / Inquirer". Of course, this trophy also highlights the lack of real journalistic achievement by Kane's tabloid newspaper, and rather the heaps of praise bestowed upon him by employees and sycophants. The scene in which it first appeared was considered so crucial to the film and so difficult to execute that Gregg Toland, "Citizen Kane's" Oscar-winning cinematographer, considered it the proudest achievement of his career. The trophy appears once more in the film, at the end with Kane's other possessions at Xanadu. In this scene, Jerry Thompson, the reporter, and Raymond, Kane's butler, talk about the meaning of Rosebud while standing over the trophy; they even read the wording on the trophy during this scene. Silver-plated loving cup trophy measures a very impressive 17.5″ tall and 16.75″ wide, with scrolling leaf-clad handles and scrolling base, manufactured by the Barbour Silver Company. Though "Citizen Kane" is widely considered the greatest film of all time (having won "Best Film of the Decade" for two decades by both the AFI and BFI), it only won one Academy Award for screenwriting — a consequence of William Randolph Hearst's blacklisting in his theatres. Its popularity and significance has steadily risen since its release in 1941, a time when movie studios retained very few of their movie props. As a result, only a handful of "Citizen Kane" props have come to market, with almost all of them from the final warehouse scene at Xanadu and having no significance to the film's plot. This trophy, along with the Rosebud sleds and the snow globe (which has never been available and is considered lost or broken) are the handful of important props in the film. It is truly the most magnificent "Citizen Kane" screen-used prop one could ever hope to own, from the Golden Age of Hollywood that included such films as "Casablanca" and "Gone With the Wind." Previous Christie's auction provenance is also included. Some silver tarnishing to the trophy, and light wear, but overall in near fine condition. Sold for $275,544.
"On the Town" Oscar Statue for Best Scoring of a Musical Picture — Popular Musical Starring Gene Kelly & Frank Sinatra
Academy First Award to Lennie Hayton for his score of the hit musical "On the Town," produced by MGM in 1949. The film starred Frank Sinatra and Gene Kelly as sailors, and Ann Miller and Betty Garrett as their love interests. The number 517 and the copyright symbol are engraved into the film reel surface behind Oscar's heels; the 1949 awards were the first year that the statues were numbered, starting with 501. The plaque across the front reads "Academy First Award / To / Lennie Hayton / For The Scoring of the Musical Picture / 'On The Town"'. The plaque on the reverse reads: "Academy of / Motion Picture / Arts And Sciences / 1949". The Dodge Manufacturing plaque near the bottom edge reads "Manufactured under world rights granted / by Academy of Motion Picture Arts & Sciences / To Dodge Inc. Trophies – Los Angeles California". An LOA from Lena Horne's daughter is also included in the lot (Lena Horne was married to Lennie Hayton). Gold-plated brittanium statue posing on a film reel stands 10.25" tall, 13.25" with base, made of spun brass measuring 5.25" in diameter. Statue weighs 6 lbs. 1.75 oz. The felt backing is present but has separated completely, and there are some very minimal flecks to the finish, else near fine. The gold lacquer finish remains brilliant. Sold for $128,540.
The Batsuit From "Batman Returns" Starring Val Kilmer — Measures Over 6′ Tall on Custom Display
The Batsuit from the 1995 hit superhero film "Batman Forever" directed by Joel Schumacher and starring Val Kilmer as Batman. Body of batsuit is in formed black rubber segments covered by the textured integral cape and cowl style mask, with long black leather gloves, boots and black plastic belt and bat symbol. Original parts of the costume from the film are the cowl, cape and body; the gloves, belt, insignia and shoes are replicas for the display. Cowl was likely not worn, but rather displayed in the Batcave scene, and attaches to the cape with velcro. Costume comes displayed dramatically on a mannequin with chiseled face of Kilmer, mounted to a 2′ square gray-white base with "BATMAN FOREVER" at front center. Zipper along the back opens to reveal "K.C. #59″ written in silver ink. Batsuit measures 6'5″ tall including 4″ tall base, and approximately 28" at the widest point of the cape. Light wear and cracking from use, with a few chips to top of insignia, and glue showing at top of cape where it attaches to cowl. Overall in very good plus condition, a stunning display. Sold for $45,000.
"Uncivil Warriors" One-Sheet Movie Poster From 1935, Owned by Moe Howard
Very rare one-sheet movie poster for "Uncivil Warriors", one of the earliest and most beloved Three Stooges films, released in 1935. One-sheets from the 1930s are exceedingly rare, with this poster all the more special as owned by Moe Howard. Linen-backed poster measures 27" x 41". Mild restoration at folds. Colors remain bright, with strong visual appeal, in near fine condition. Sold for $37,500.
Scarce John Wayne Cowboy Hat Worn in Six Films That Defined The Iconic Actor's Western Career
Incredibly rare and iconic cowboy hat worn by the legendary John Wayne in six major westerns. Wayne wore the hat in the 1961 film "The Comancheros", the 1963 film "McClintock!", the 1965 film "The Sons of Katie Elder", the 1966 film "El Dorado", and the 1969 film "The Undefeated". Camel-colored felt cowboy hat has "John Wayne / 'Comancheros"' written in black marker to underneath of front brim, with an additional "John Wayne" written in black marker to leather sweatband, as well as "#3" written in green pen to leather. Hat's brim measures 16" in length and is 5" tall. Inside measures 7" in diameter. Six little holes to brim. With provenance from the Collection of John Wayne, the Collection of Chuck Roberson (the actor's stunt double), John Hagner's Hollywood Stuntmen's Hall of Fame, and Mecum Auctions, Santa Monica, CA, July 26-27, 2013, lot F168. Overall very good. From John Wayne worn costume auction. Sold for $37,500.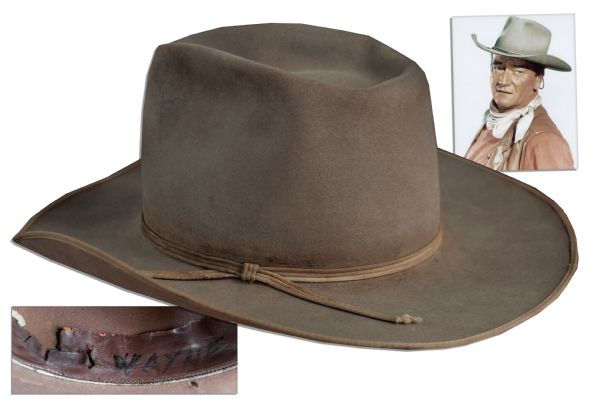 Ultra-Rare Original 1946 Gilda Movie Poster Featuring Rita Hayworth in Her Landmark Role
Original Columbia Pictures 1946 Gilda movie poster starring Rita Hayworth in her best-known performance as Hollywood's ultimate femme fatale. Directed by Charles Vidor, "Gilda" was released just after the end of WWII and was lauded for its mixture of genres and rather modern approach to character interaction. The poster features the iconic Hayworth in a debonair pose holding a cigarette with a headline reading in part: "There NEVER was a woman like Gilda! / Columbia Pictures presents / Rita Hayworth as Gilda with Glenn Ford…" Poster by Morgan Litho Co. measures 27″ x 41″ and has folds throughout, with a long vertical scratch and small tear down the front of her dress, reinforced with a piece of brown tape on the back of poster. Some light tan stains and pinholes on and near the borders. Very good condition overall with still vibrant colors. Very scarce. Sold for $25,000.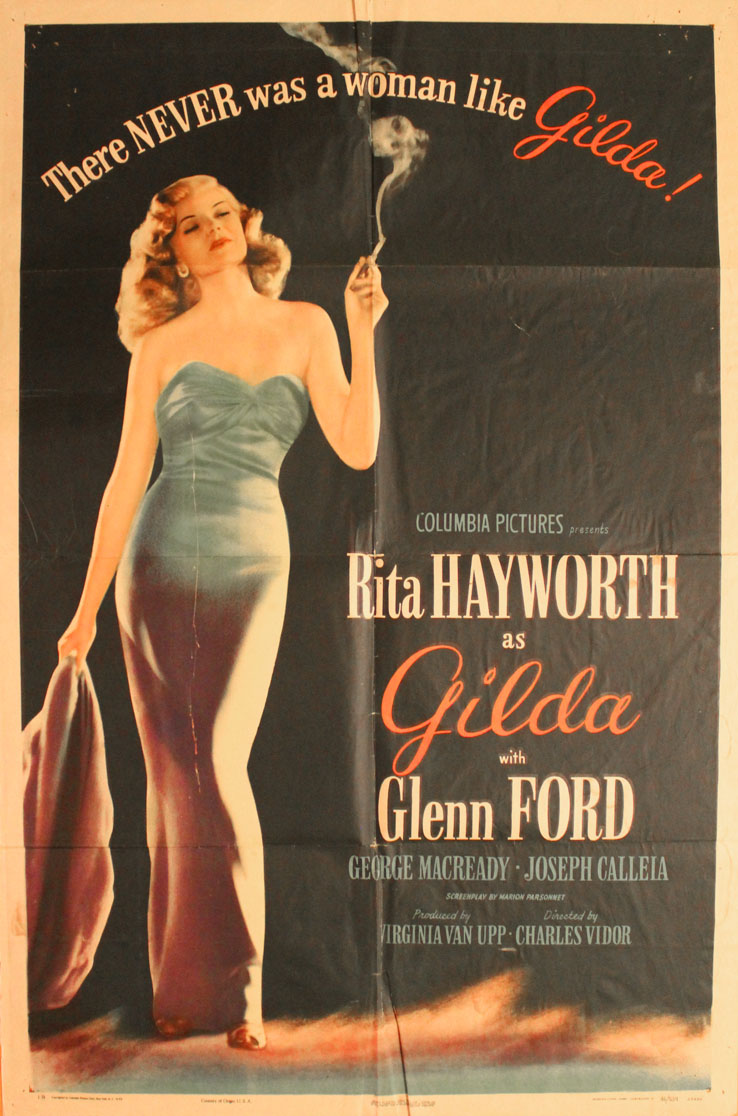 Consign your item at Nate D. Sanders Auctions. Contact [email protected] to sell your item.