Sell Or Auction Your 1927 Oswald The Lucky Rabbit in Great Guns One Sheet Movie Poster for up to Nearly $40,000 or More at Nate D. Sanders Auctions
FREE ESTIMATE. To buy, auction, sell or consign your 1927 Oswald the Lucky Rabbit in Great Guns One Sheet Movie Poster that is for sale, please email [email protected] or call Nate D. Sanders Auctions (http://www.NateDSanders.com) at (310) 440-2982.
Sell Your 1927 Oswald the Lucky Rabbit in Great Guns One Sheet Movie Poster
Great Guns! is a 1927 Oswald the Lucky Rabbit cartoon produced by the Walt Disney Studio and Winkler Productions. It was re-issued by Walter Lantz Productions in 1932. It was originally released on October 17, 1927.
Oswald the Lucky Rabbit (also known as Oswald the Rabbit or Oswald Rabbit) is an anthropomorphic cartoon rabbit created by Walt Disney and Ub Iwerks for Universal Pictures. He starred in several animated short films released to theaters from 1927 to 1938. A total of 27 animated Oswald one-reelers were produced at the Walt Disney Studio. When the Disney studio was removed from the Oswald series and several of its animators departed to Winkler, Walt Disney and Ub Iwerks created Mickey Mouse.
1927 Oswald the Lucky Rabbit in Great Guns One Sheet Movie Poster. Sold for nearly $40,000.
Nate D. Sanders Auctions has sold the following similar items:
1947 Academy Award Oscar for Best Song, the Iconic "Zip-A-Dee-Doo-Dah" — One of the Most Popular Songs of the 20th Century
Best Song Oscar for "Zip-A-Dee-Doo-Dah", presented to songwriter Allie Wrubel at the 20th Academy Awards. Wrubel composed the music and co-writer Ray Gilbert wrote the lyrics to the song from the soundtrack of the Walt Disney musical "Song of The South". Immediately recognized as special in its day, "Zip-A-Dee-Doo-Dah" has endured as one of the most beloved songs of the 20th century, and is the current song for the Disney theme park ride "Splash Mountain". Award is accompanied by a hardcover copy of the Wrubel family's photo-illustrated biography containing an intimate glimpse into Wrubel's career as one of the most prolific and successful songwriters in Hollywood. Oscar statue is a knight figure posed perfectly symmetrically with a crusader's sword, and standing on a film reel, the five spokes of which represent actors, writers, directors, producers and technicians. Gold-plated brittanium statue sits atop a black lacquered metal base bearing plaques labeling the award. Underside of the base is lined in felt. Measures 13.25″ in height and weighs 6 pounds, 5 ounces. Figure shows a light allover sprinkling of corrosion and chipping to finish on the base, otherwise near fine with a bright gold finish, and displaying nicer than most Oscars of its period. From the Wrubel estate.
Sold for $125,000.
The Batsuit From "Batman Returns" Starring Val Kilmer — Measures Over 6′ Tall on Custom Display
The Batsuit from the 1995 hit superhero film "Batman Forever" directed by Joel Schumacher and starring Val Kilmer as Batman. Body of batsuit is in formed black rubber segments covered by the textured integral cape and cowl style mask, with long black leather gloves, boots and black plastic belt and bat symbol. Original parts of the costume from the film are the cowl, cape and body; the gloves, belt, insignia and shoes are replicas for the display. Cowl was likely not worn, but rather displayed in the Batcave scene, and attaches to the cape with velcro. Costume comes displayed dramatically on a mannequin with chiseled face of Kilmer, mounted to a 2′ square gray-white base with "BATMAN FOREVER" at front center. Zipper along the back opens to reveal "K.C. #59″ written in silver ink. Batsuit measures 6'5″ tall including 4″ tall base, and approximately 28" at the widest point of the cape. Light wear and cracking from use, with a few chips to top of insignia, and glue showing at top of cape where it attaches to cowl. Overall in very good plus condition, a stunning display. Sold for $45,000.
"Uncivil Warriors" One-Sheet Movie Poster From 1935, Owned by Moe Howard
Very rare one-sheet movie poster for "Uncivil Warriors", one of the earliest and most beloved Three Stooges films, released in 1935. One-sheets from the 1930s are exceedingly rare, with this poster all the more special as owned by Moe Howard. Linen-backed poster measures 27" x 41". Mild restoration at folds. Colors remain bright, with strong visual appeal, in near fine condition. Sold for $37,500.
Scarce John Wayne Cowboy Hat Worn in Six Films That Defined The Iconic Actor's Western Career
Incredibly rare and iconic cowboy hat worn by the legendary John Wayne in six major westerns. Wayne wore the hat in the 1961 film "The Comancheros", the 1963 film "McClintock!", the 1965 film "The Sons of Katie Elder", the 1966 film "El Dorado", and the 1969 film "The Undefeated". Camel-colored felt cowboy hat has "John Wayne / 'Comancheros"' written in black marker to underneath of front brim, with an additional "John Wayne" written in black marker to leather sweatband, as well as "#3" written in green pen to leather. Hat's brim measures 16" in length and is 5" tall. Inside measures 7" in diameter. Six little holes to brim. With provenance from the Collection of John Wayne, the Collection of Chuck Roberson (the actor's stunt double), John Hagner's Hollywood Stuntmen's Hall of Fame, and Mecum Auctions, Santa Monica, CA, July 26-27, 2013, lot F168. Overall very good. From John Wayne worn costume auction. Sold for $37,500.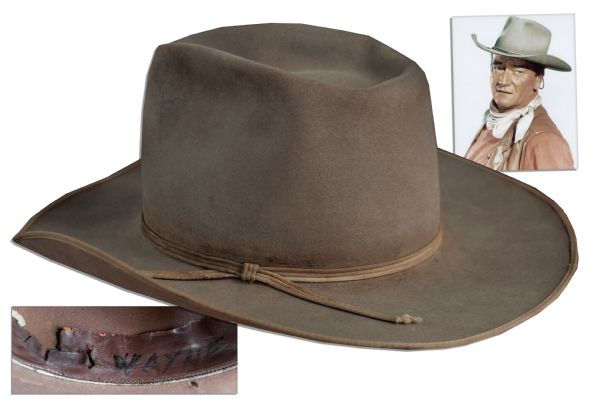 Ultra-Rare Original 1946 Gilda Movie Poster Featuring Rita Hayworth in Her Landmark Role
Original Columbia Pictures 1946 Gilda movie poster starring Rita Hayworth in her best-known performance as Hollywood's ultimate femme fatale. Directed by Charles Vidor, "Gilda" was released just after the end of WWII and was lauded for its mixture of genres and rather modern approach to character interaction. The poster features the iconic Hayworth in a debonair pose holding a cigarette with a headline reading in part: "There NEVER was a woman like Gilda! / Columbia Pictures presents / Rita Hayworth as Gilda with Glenn Ford…" Poster by Morgan Litho Co. measures 27″ x 41″ and has folds throughout, with a long vertical scratch and small tear down the front of her dress, reinforced with a piece of brown tape on the back of poster. Some light tan stains and pinholes on and near the borders. Very good condition overall with still vibrant colors. Very scarce. Sold for $25,000.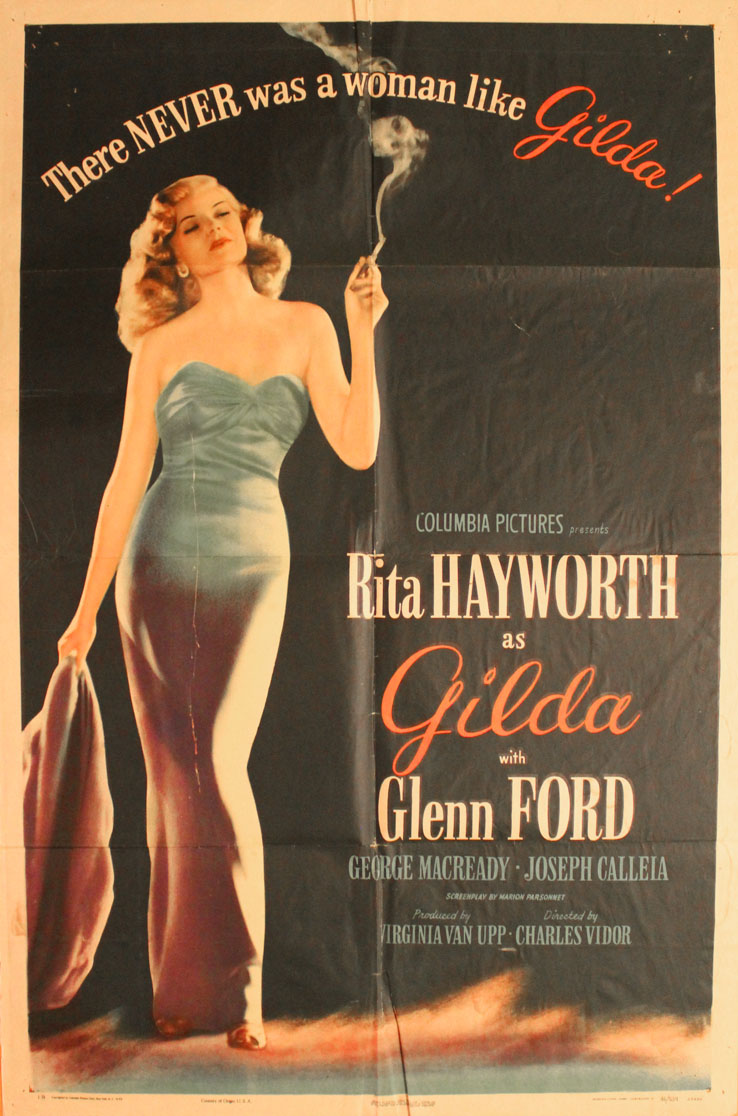 Superb Drawing of Mickey Mouse by Walt Disney, Signed by Disney — With Phil Sears COA
Walt Disney signed drawing of Mickey Mouse, scarce and without inscription. Rendered in pencil, Disney fills nearly the whole 4.625" x 7.5" page with both his large signature and Mickey's smiling face. Page is within a green paper-bound ruled notebook, with child's drawing on verso. Very good to near fine condition. With a COA from Phil Sears, who authenticates both the drawing as signature as Walt Disney's. Sold for $18,750.
Consign your item at Nate D. Sanders Auctions. Contact [email protected] to sell your item.