Sell Or Auction Your 1930 Morocco One Sheet Style B Movie Poster for up to Over $40,000 or More at Nate D. Sanders Auctions
FREE ESTIMATE. To buy, auction, sell or consign your 1930 Morocco One Sheet Style B Movie Poster that is for sale, please email Nate@NateDSanders.com or call Nate D. Sanders Auctions (http://www.NateDSanders.com) at (310) 440-2982.
Sell Your 1930 Morocco One Sheet Style B Movie Poster
Morocco is a 1930 American pre-Code romantic drama film directed by Josef von Sternberg and starring Gary Cooper, Marlene Dietrich, and Adolphe Menjou. Based on the novel Amy Jolly (the on-screen credits state, "From the play 'Amy Jolly'") by Benno Vigny and adapted by Jules Furthman, the film is about a cabaret singer and a Legionnaire who fall in love during the Rif War, but their relationship is complicated by his womanizing and the appearance of a rich man who is also in love with her. The film is most famous for the scene in which Dietrich performs a song dressed in a man's tailcoat and kisses another woman (to the embarrassment of the latter), both of which were rather scandalous for the period.
1930 Morocco One Sheet Style B Movie Poster. Sold for over $40,000.
Nate D. Sanders Auctions has sold the following similar items:
"On the Town" Oscar Statue for Best Scoring of a Musical Picture — Popular Musical Starring Gene Kelly & Frank Sinatra
Academy First Award to Lennie Hayton for his score of the hit musical "On the Town," produced by MGM in 1949. The film starred Frank Sinatra and Gene Kelly as sailors, and Ann Miller and Betty Garrett as their love interests. The number 517 and the copyright symbol are engraved into the film reel surface behind Oscar's heels; the 1949 awards were the first year that the statues were numbered, starting with 501. The plaque across the front reads "Academy First Award / To / Lennie Hayton / For The Scoring of the Musical Picture / 'On The Town"'. The plaque on the reverse reads: "Academy of / Motion Picture / Arts And Sciences / 1949". The Dodge Manufacturing plaque near the bottom edge reads "Manufactured under world rights granted / by Academy of Motion Picture Arts & Sciences / To Dodge Inc. Trophies – Los Angeles California". An LOA from Lena Horne's daughter is also included in the lot (Lena Horne was married to Lennie Hayton). Gold-plated brittanium statue posing on a film reel stands 10.25" tall, 13.25" with base, made of spun brass measuring 5.25" in diameter. Statue weighs 6 lbs. 1.75 oz. The felt backing is present but has separated completely, and there are some very minimal flecks to the finish, else near fine. The gold lacquer finish remains brilliant. Sold for $128,540.
The Batsuit From "Batman Returns" Starring Val Kilmer — Measures Over 6′ Tall on Custom Display
The Batsuit from the 1995 hit superhero film "Batman Forever" directed by Joel Schumacher and starring Val Kilmer as Batman. Body of batsuit is in formed black rubber segments covered by the textured integral cape and cowl style mask, with long black leather gloves, boots and black plastic belt and bat symbol. Original parts of the costume from the film are the cowl, cape and body; the gloves, belt, insignia and shoes are replicas for the display. Cowl was likely not worn, but rather displayed in the Batcave scene, and attaches to the cape with velcro. Costume comes displayed dramatically on a mannequin with chiseled face of Kilmer, mounted to a 2′ square gray-white base with "BATMAN FOREVER" at front center. Zipper along the back opens to reveal "K.C. #59″ written in silver ink. Batsuit measures 6'5″ tall including 4″ tall base, and approximately 28" at the widest point of the cape. Light wear and cracking from use, with a few chips to top of insignia, and glue showing at top of cape where it attaches to cowl. Overall in very good plus condition, a stunning display. Sold for $45,000.
"Uncivil Warriors" One-Sheet Movie Poster From 1935, Owned by Moe Howard
Very rare one-sheet movie poster for "Uncivil Warriors", one of the earliest and most beloved Three Stooges films, released in 1935. One-sheets from the 1930s are exceedingly rare, with this poster all the more special as owned by Moe Howard. Linen-backed poster measures 27" x 41". Mild restoration at folds. Colors remain bright, with strong visual appeal, in near fine condition. Sold for $37,500.
Scarce John Wayne Cowboy Hat Worn in Six Films That Defined The Iconic Actor's Western Career
Incredibly rare and iconic cowboy hat worn by the legendary John Wayne in six major westerns. Wayne wore the hat in the 1961 film "The Comancheros", the 1963 film "McClintock!", the 1965 film "The Sons of Katie Elder", the 1966 film "El Dorado", and the 1969 film "The Undefeated". Camel-colored felt cowboy hat has "John Wayne / 'Comancheros"' written in black marker to underneath of front brim, with an additional "John Wayne" written in black marker to leather sweatband, as well as "#3" written in green pen to leather. Hat's brim measures 16" in length and is 5" tall. Inside measures 7" in diameter. Six little holes to brim. With provenance from the Collection of John Wayne, the Collection of Chuck Roberson (the actor's stunt double), John Hagner's Hollywood Stuntmen's Hall of Fame, and Mecum Auctions, Santa Monica, CA, July 26-27, 2013, lot F168. Overall very good. From John Wayne worn costume auction. Sold for $37,500.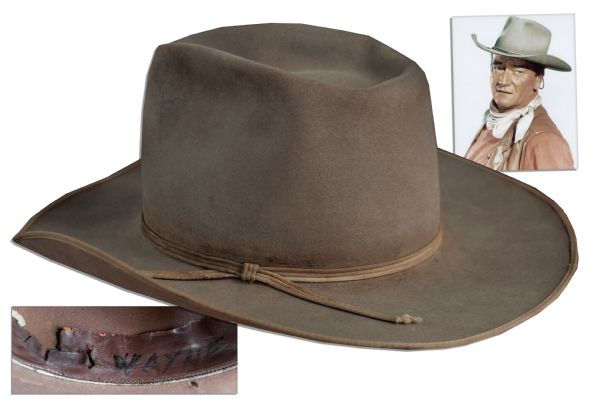 Ultra-Rare Original 1946 Gilda Movie Poster Featuring Rita Hayworth in Her Landmark Role
Original Columbia Pictures 1946 Gilda movie poster starring Rita Hayworth in her best-known performance as Hollywood's ultimate femme fatale. Directed by Charles Vidor, "Gilda" was released just after the end of WWII and was lauded for its mixture of genres and rather modern approach to character interaction. The poster features the iconic Hayworth in a debonair pose holding a cigarette with a headline reading in part: "There NEVER was a woman like Gilda! / Columbia Pictures presents / Rita Hayworth as Gilda with Glenn Ford…" Poster by Morgan Litho Co. measures 27″ x 41″ and has folds throughout, with a long vertical scratch and small tear down the front of her dress, reinforced with a piece of brown tape on the back of poster. Some light tan stains and pinholes on and near the borders. Very good condition overall with still vibrant colors. Very scarce. Sold for $25,000.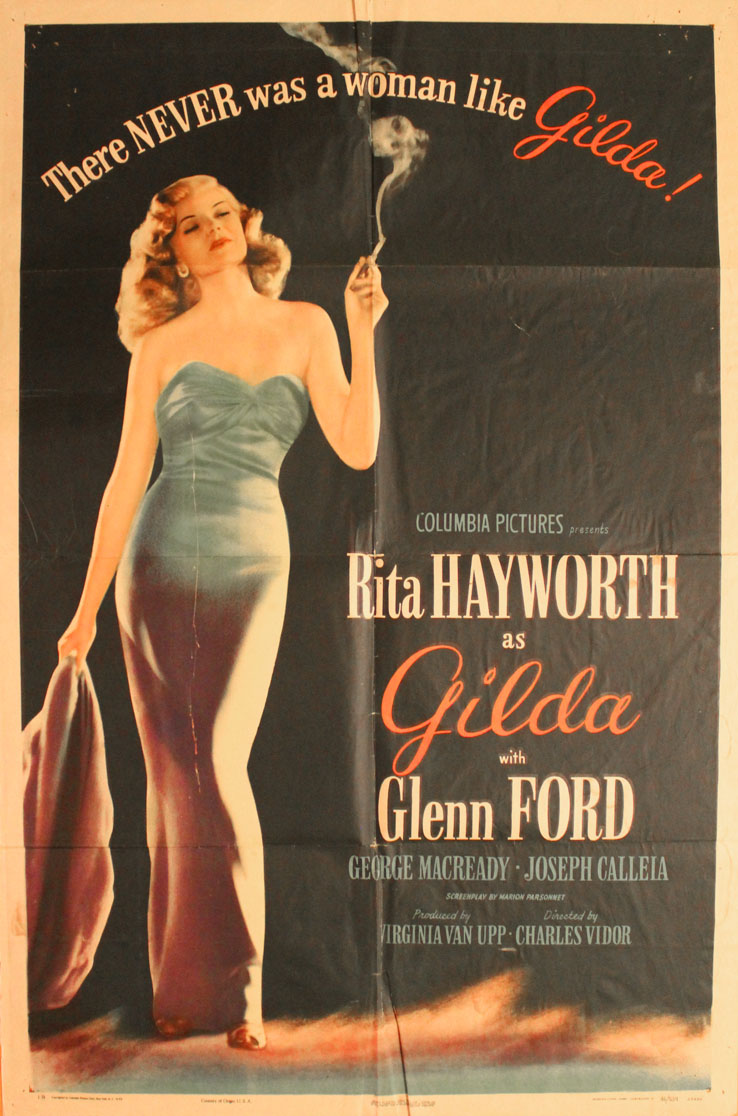 Gary Cooper's Jacket From the 1954 Western, "Vera Cruz" — An Important Western That Greatly Influenced Sergio Leone & Other Filmmakers of the 1960's & 70's
Gary Cooper's wool and velvet jacket from "Vera Cruz", the 1954 film also starring Burt Lancaster, considered unique in its time and influencing future generations of filmmakers. As Civil War veteran Ben Trane in the film, Cooper wore this jacket to the ball at Chapultepec Castle. Long tan single-breasted wool jacket has a brown velvet collar, brown satin lining and two front pockets. A Western Costume label is sewn into the interior breast pocket, which lists in type Gary Cooper's name and the number "99-2120-2″. The chest size is also listed as 42. Entire length of coat measures 38.5″ and sleeves from top of shoulder measure 27". A small repaired hole on the bottom front, small spots of soiling and a tear to interior satin, otherwise near fine. Sold for $1,875.
Consign your item at Nate D. Sanders Auctions. Contact Nate@NateDSanders.com to sell your item.