Sell or Auction Your Walt Disney's Mickey Mouse Outwits The Phantom Blot Comic Book for up to Nearly $75,000 or More at Nate D. Sanders Auctions
FREE ESTIMATE. To buy, auction, sell or consign your Walt Disney's Mickey Mouse Outwits the Phantom Blot comic book that is for sale, please email your description and photos to Nate@NateDSanders.com of Nate D. Sanders Auctions (http://www.NateDSanders.com).
Sell Your Walt Disney's Mickey Mouse Outwits the Phantom Blot comic book
Arthur Floyd Gottfredson (May 5, 1905 – July 22, 1986) was an American cartoonist best known for his defining work on the Mickey Mouse comic strip, which he worked on from 1930 until his retirement in 1975. He has probably had the same impact on the Mickey Mouse comics as Carl Barks had on the Donald Duck comics. 17 years after his death, his memory was honored with the Disney Legends award in 2003 and induction into the Comic Book Hall of Fame in 2006.
Below is a recent realized price for a Walt Disney's Mickey Mouse Outwits the Phantom Blot comic book. We at Nate D. Sanders Auctions can obtain up to these amounts or more for you:
Walt Disney's Mickey Mouse Outwits the Phantom Blot comic book. Sold for nearly $75,000.
Nate D. Sanders Auctions has sold the following items:
Walt Disney Autograph on an Album Page with Walt Disney Sketch in Disney's Hand
Extremely rare Walt Disney document signed album page with hand-drawn Mickey Mouse sketch. Page boldly signed "Walt Disney" in fountain pen ink and datelined "Oxford, England, June 16 1935." Mickey Mouse sketched in classic profile a mere seven years after the character's 1928 "Steamboat Willie" debut and while Disney himself still voiced the famed Mouse; (sound effects man, James G. MacDonald took over the role in 1946). Paper, measuring 7″ x 4.5″, includes four additional signatures not obstructing Disney autograph or sketch. A fantastic rare image of the iconic cartoon character signed by feature animation's founding father. A bold Walt Disney autograph. Fine condition. Sold for $17,500.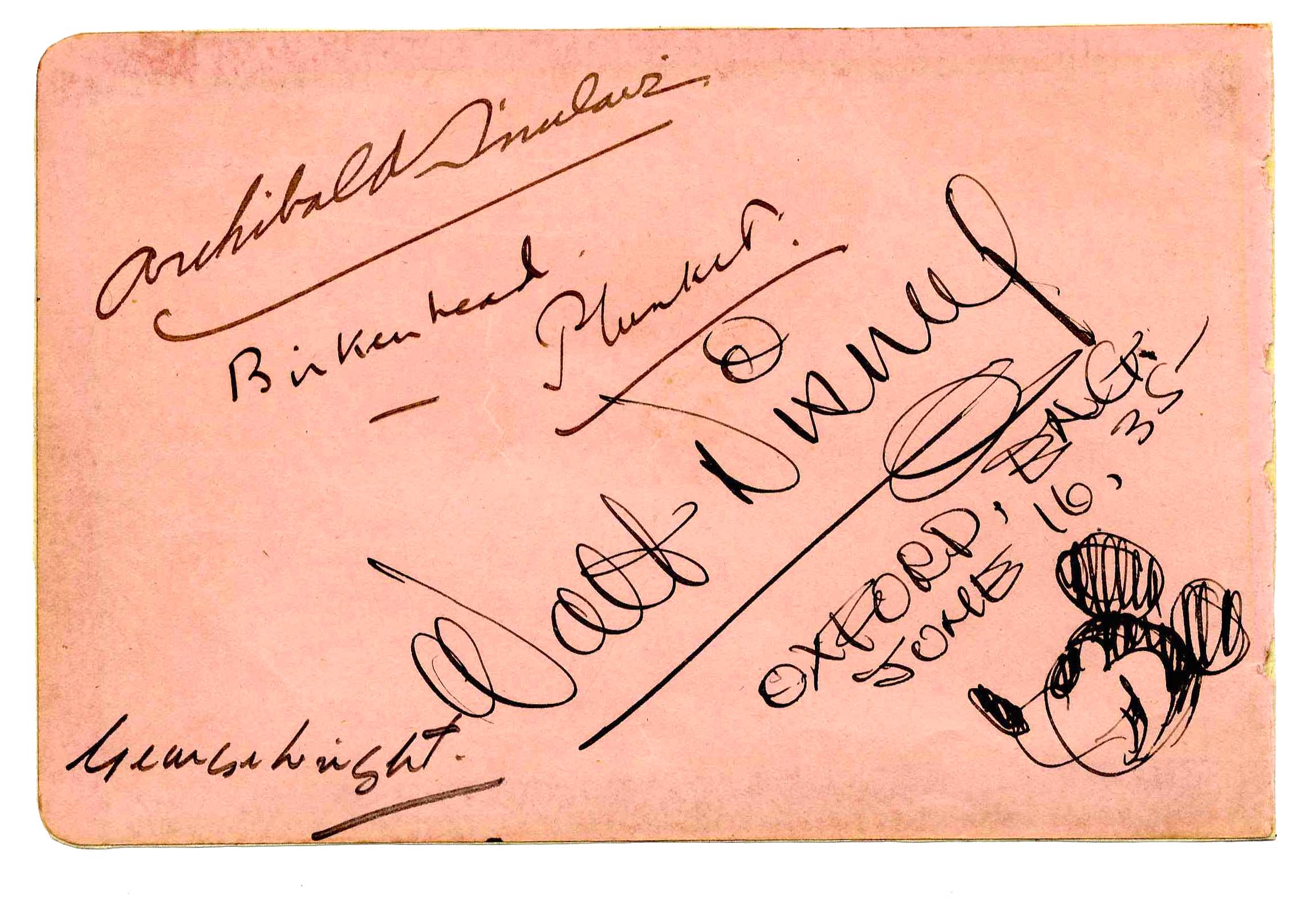 Walt Disney Signed Drawing of Mickey Mouse — Sketched Within a First Edition Copy of "The Art of Walt Disney" — An Exceptionally Rare Disney Piece
Scarce illustration of Mickey Mouse, drawn and signed by Walt Disney inside a first edition copy of "The Art of Walt Disney". The commemorative book, published by Macmillan: New York: 1942 features a beautiful illustration of a smiling Mickey Mouse to the front free endpaper, hand-drawn in blue crayon by Walt Disney. Handwritten note reads: "To Mick Olson / From One 'M' to Another! Best Wishes From Walt Disney". Hardcover first edition has tan cloth boards with orange black lettering to the cover, and illustrations throughout. Written by Robert D. Feild, who gives a wonderful narrative and pictorial history of Disney's legendary career. Measures 8.5″ x 11.5″ and runs 290pp. Very slight cocking to the spine, and light toning. Small stain to top of front cover. Very good. Sold for $15,000.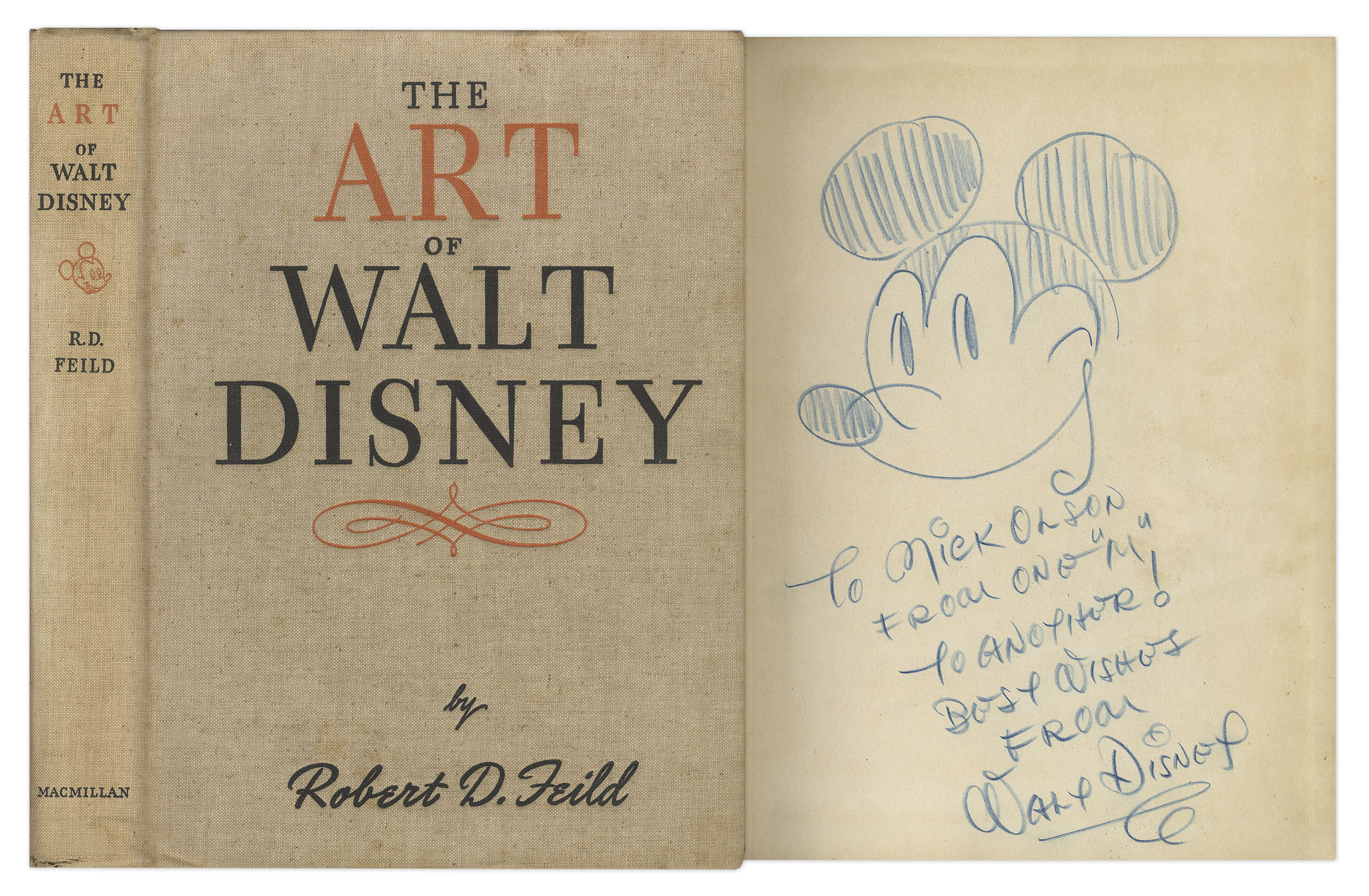 Walt Disney Autograph and a Mickey Mouse Sketch
Extraordinary Walt Disney signed and inscribed sketch. With additional signed sketches by several of Disney's top artists. Disney sketches his famed Mouse and inscribes, "To John Adrian / Hoping he will be able to draw better than this / Walt Disney." A truly rare piece created while Disney and 15 of his studio staff traveled on a goodwill movie making tour to South America at the urging of the U.S. Government; the result of which was the war-time release of the cartoons "Saludos Amigos" and The Three Caballeros." At the end of the tour, on a 17 day voyage home, Disney met a young John Adrian and provided him with this extraordinary piece. Additionally signed by artists: Tead Sears (Goofy), Jim Bodero (Bacchus), Webb Smithy (J. Thaddeus Toad), Norm Ferguson (Pluto), and Frank Thomas (Donald Duck). Composer Charles Wolcott adds music and lyrics from 'The Reluctant Dragon," and business manager, John Rose, also pens his name. A gorgeous Walt Disney autograph with sketch. Framed with two photographs and plaques to 25″ x 33″. Fine condition. Sold for $14,174.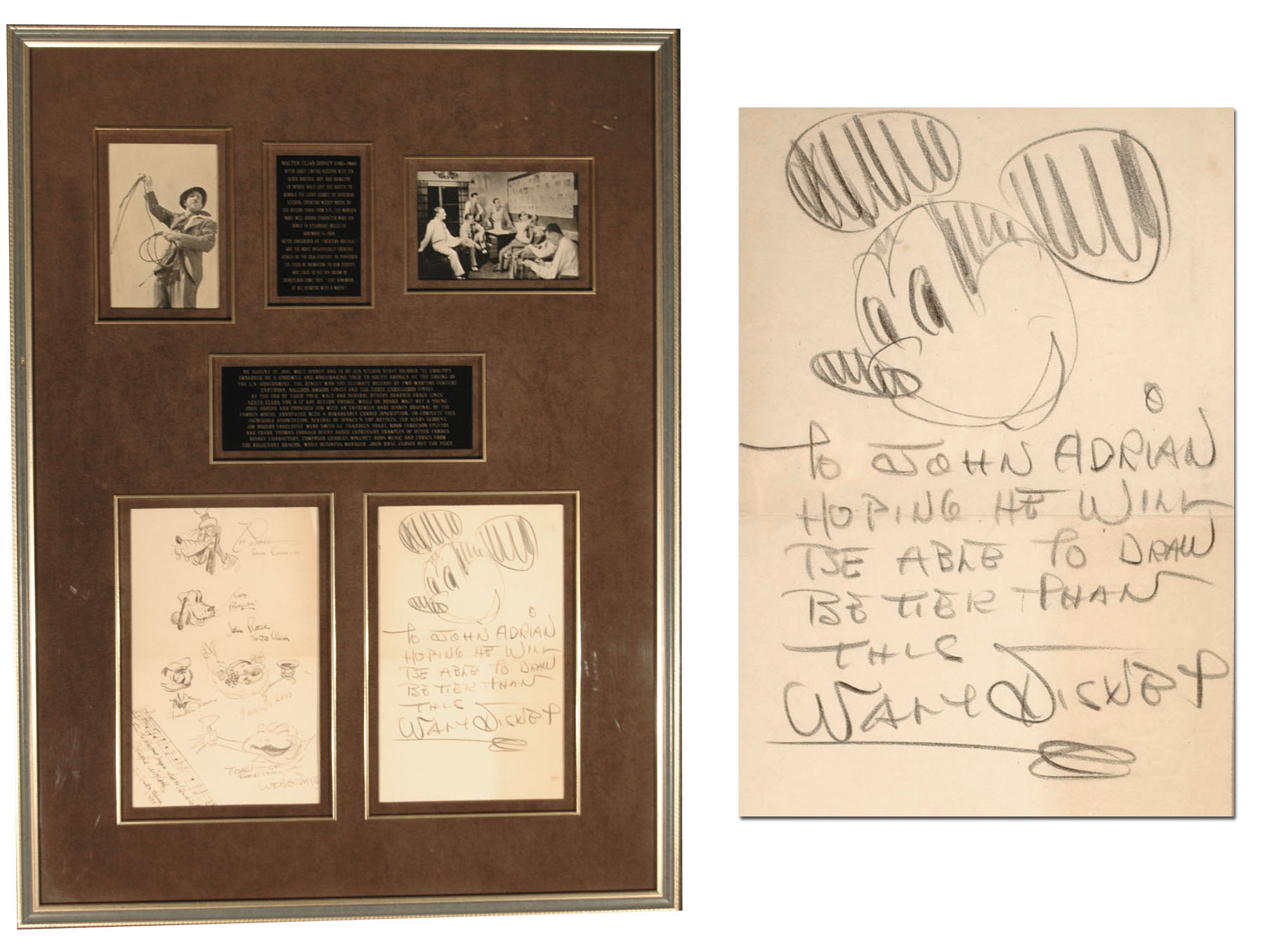 Walt Disney Autograph on His Personal 1933 Christmas Card
1933 "Season's Greetings" document signed card from Walt Disney to friends in Kansas City. Signed and inscribed, "Hope this finds the Cottinghams in the same high spirits as when I last saw them. Regards, Walter." Card features a snowy holiday scene of Mickey Mouse and gang being pulled in a carriage by a cow with deer antlers strapped atop his head. Sticker of Mickey Mouse holding a Christmas tree that reads "Merry Christmas" stuck to bottom half of card above text, "Walt Disney and Mickey Mouse present their Silly Symphony 'Season's Greetings.'" Mickey Mouse sticker copyrighted by "Walt Disney Enterprises / Hall Brothers Inc." It was around this time that Disney signed an agreement with Hall Brothers cards, now known as Hallmark, for use of Disney characters in their line of greeting cards, making this sticker one of the first from Hall Brothers Inc. A rare, vintage Walt Disney autograph. Card measures 8.75″ x 4.75″. Creasing, wear and small tears along edges as well as along center fold, otherwise excellent condition. Sold for $12,500.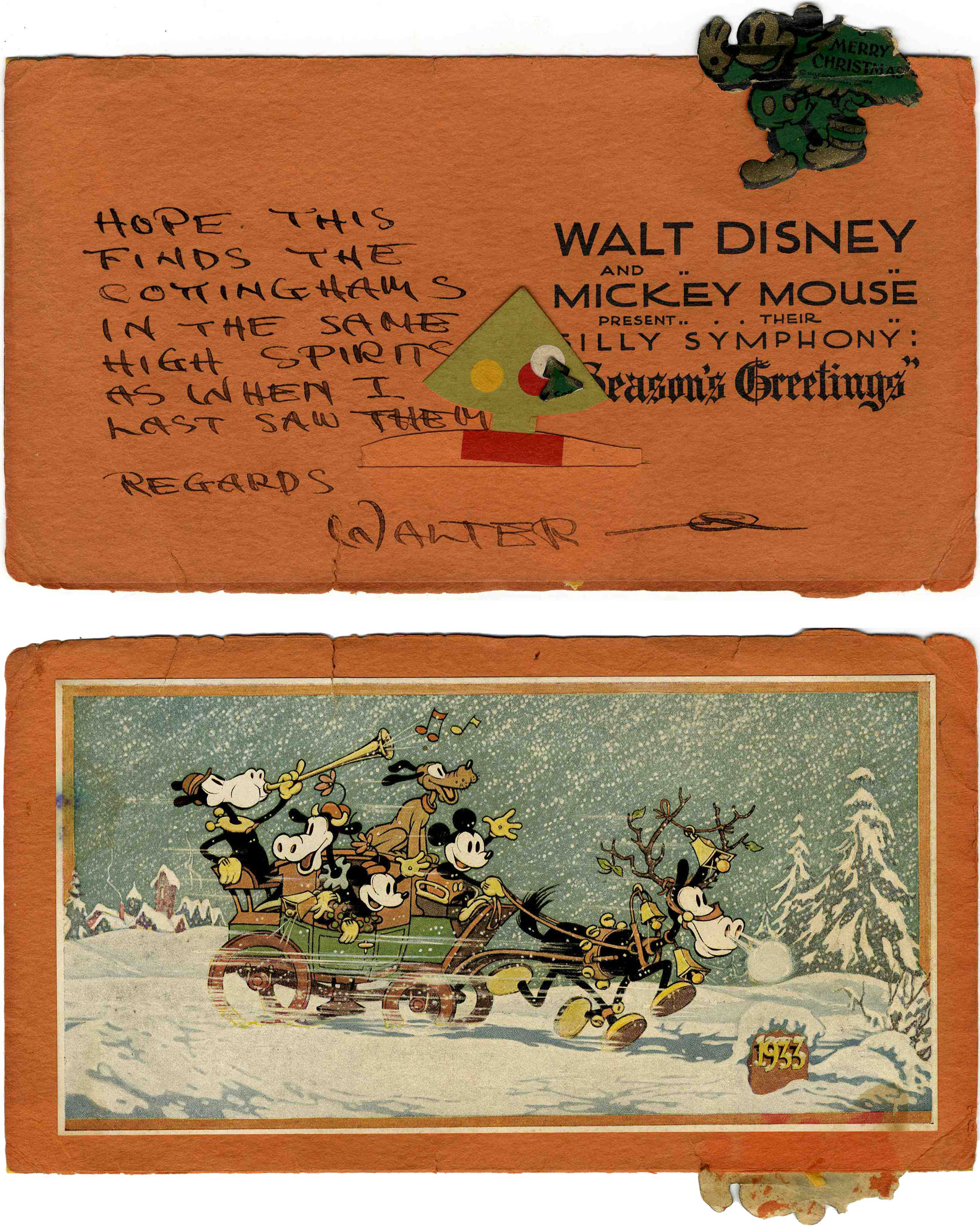 Mickey Mouse "Fantasia" Hand Painted Cel by Walt Disney Company — From the "Magic Brooms" Segment.
Hand painted animation cel from the Walt Disney classic "Fantasia". The groundbreaking animated film is widely recognized as revitalizing the character of Mickey Mouse. Cel depicts Mickey, clad in his iconic sorcerer's hat and red robe during the "Magic Brooms" segment, the most memorable portion of the film. Cel measures 11″ x 10″, framed to 16.5″ x 15″. With original Disney label on verso of frame. Near fine condition. Sold for $11,000
Disney Mickey Mouse Cel From the 1939 Short Film "Society Dog Show" — Depicting Two of Disney's Most Iconic Characters, Mickey Mouse and Pluto — Featuring Mickey in His Older Character Design
Original animation Mickey Mouse cel from Walt Disney's classic 1939 cartoon short, "Society Dog Show", which featured the trials and tribulations of Mickey Mouse and Pluto at a fancy dog show. This cartoon is particularly collectible as it features Mickey in his older appearance for the last time, most notably his black eyes without white around them, which changed later that year. Cel depicts Mickey walking Pluto into the show proudly, and though Pluto's raucous behavior gets him booted, he saves a dog from a fire and becomes the show's hero. With a Courvoisier Gallery label on verso, cel is done in gouache on trimmed celluloid, applied to a Courvoisier airbrushed background. Embossed with "1939 Walt Disney Prod". Matted and framed to an overall size of 17.75″ x 17″, with viewable area of 8.5″ x 7″. Near fine condition. Sold for $7,422.
Consign your item at Nate D. Sanders Auctions. Send a description and images to us at Nate@NateDSanders.com.