Sell or Auction Your Lord Byron Autograph for up to $850 or More at Nate D. Sanders Auctions
FREE ESTIMATE. To buy, auction, sell or consign your Lord Byron autograph that is for sale, please email your description and photos to [email protected] of Nate D. Sanders Auctions (http://www.NateDSanders.com).
Sell Your Lord Byron Autograph
Here is a Lord Byron autograph we sold in the past:
Lord Byron Signed Envelope — Rare
Lord Byron holograph and signed envelope. The poet inscribes in black ink, "1813 [?] January Eleventh / Mrs. Beauclerk / St. Leonard's / Horsham / Byron". A leading figure in the Romantic movement and a social reformist, Byron was known to send Emily Beauclerk, the half sister of Lord Edward Fitzgerald, his visiting card in an attempt to court her. 4.5″ x 2.75″ envelope is lightly soiled and has a small hole to the upper left. In very good condition with wear commensurate with age. A rare signed item by the notorious Byron. Sold for $850.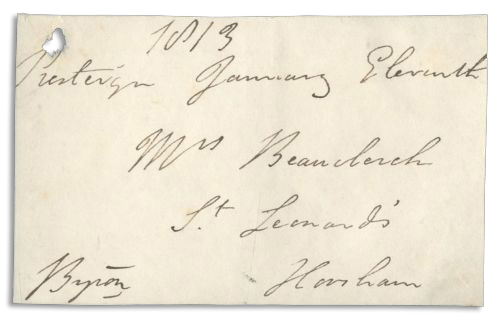 Consign your Lord Byron autograph at Nate D. Sanders Auctions. Send a description and images of your Lord Byron item to us at [email protected].