Sell or Auction Your Jesse James CDV for up to $1,954 or More at Nate D. Sanders Auctions
FREE ESTIMATE. To buy, auction, sell or consign your Jesse James CDV that is for sale, please email your description and photos to Nate@NateDSanders.com of Nate D. Sanders Auctions (http://www.NateDSanders.com).
Sell Your Jesse James CDV
Here is a Jesse James CDV we have sold in the past:
Jesse James and Younger Gang, Circa 1876, CDV
Very scarce 1876 CDV of 6 members of Jesse James' infamous James and Younger Gang, as well as a bank teller victim, after their failed attempt to rob the First National Bank in Northfield, Minnesota. CDV contains images of James-Younger gang members: Bob Younger, Jim Younger and Cole Younger, as well as Charlie Pitts, Bill Chadwell, Clell Millet and murdered bank teller Joseph Haywood. The day of the failed robbery, 7 September 1876, marked the beginning of the end for the infamous James-Younger gang as its members were captured or killed, save for the James' brothers, who just barely escaped. In addition to Miller and Stiles dead, every gang member was wounded, including Cole who was shot in his left hip, Frank James in his right leg and Jesse James, the last to be shot, getting a bullet in the thigh as the gang escaped. The Youngers surrendered, and pleaded guilty to murder in order to avoid execution. CDV photographer's backmark reads: "Den Chamberlain Mitchell's Block, NO.13, 2ND ST., Winona, – Minn." CDV measures 2.5″ x 4″. Some fading, else near fine. Sold for $1,954.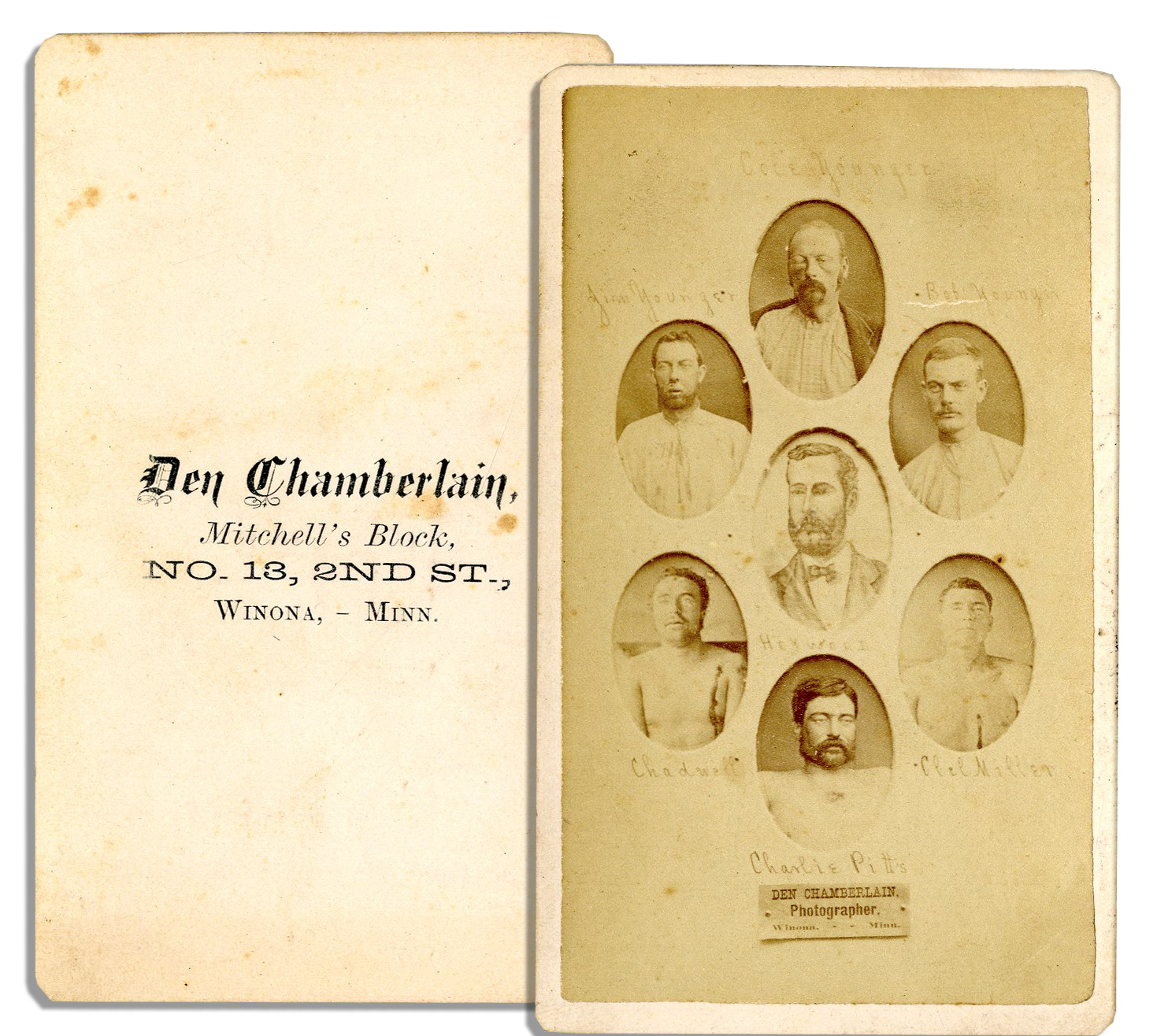 Consign your Jesse James CDV at Nate D. Sanders Auctions. Send a description and images of your Jesse James item to us at Nate@NateDSanders.com.