Sell or Auction Your Eliot Ness Autograph for up to $1,371 or More at Nate D. Sanders Auctions
FREE ESTIMATE. To buy, auction, sell or consign your Eliot Ness autograph that is for sale, please email your description and photos to Nate@NateDSanders.com of Nate D. Sanders Auctions (http://www.NateDSanders.com).
Sell Your Eliot Ness Autograph
Here is a Eliot Ness autograph we have sold in the past:
Prohibition Agent Eliot Ness Typed Letter Signed
Prohibition agent and proponent Eliot Ness typed letter signed, dated 3 November 1937, as Cleveland's Public Safety Director. To detective Harry A. Hugo in Cleveland, Ohio for capture of a prison escapee, Theodore Slapak. Reads in part, "I sincerely wish to compliment you on the excellent and courageous work done by you in the recent capture of Theodore Slapak, who had escaped from County Jail. Your prompt and efficient action under these circumstances sets an excellent example in the department and is of great value to the city…" Letter on one page is signed "Eliot Ness" in black ink. Measures 8.5″ x 11″ with two additional black and white photos of Ness, one while on duty. Letter has tears forming along folds and minor chipping and toning, else very good. Sold for $1,371.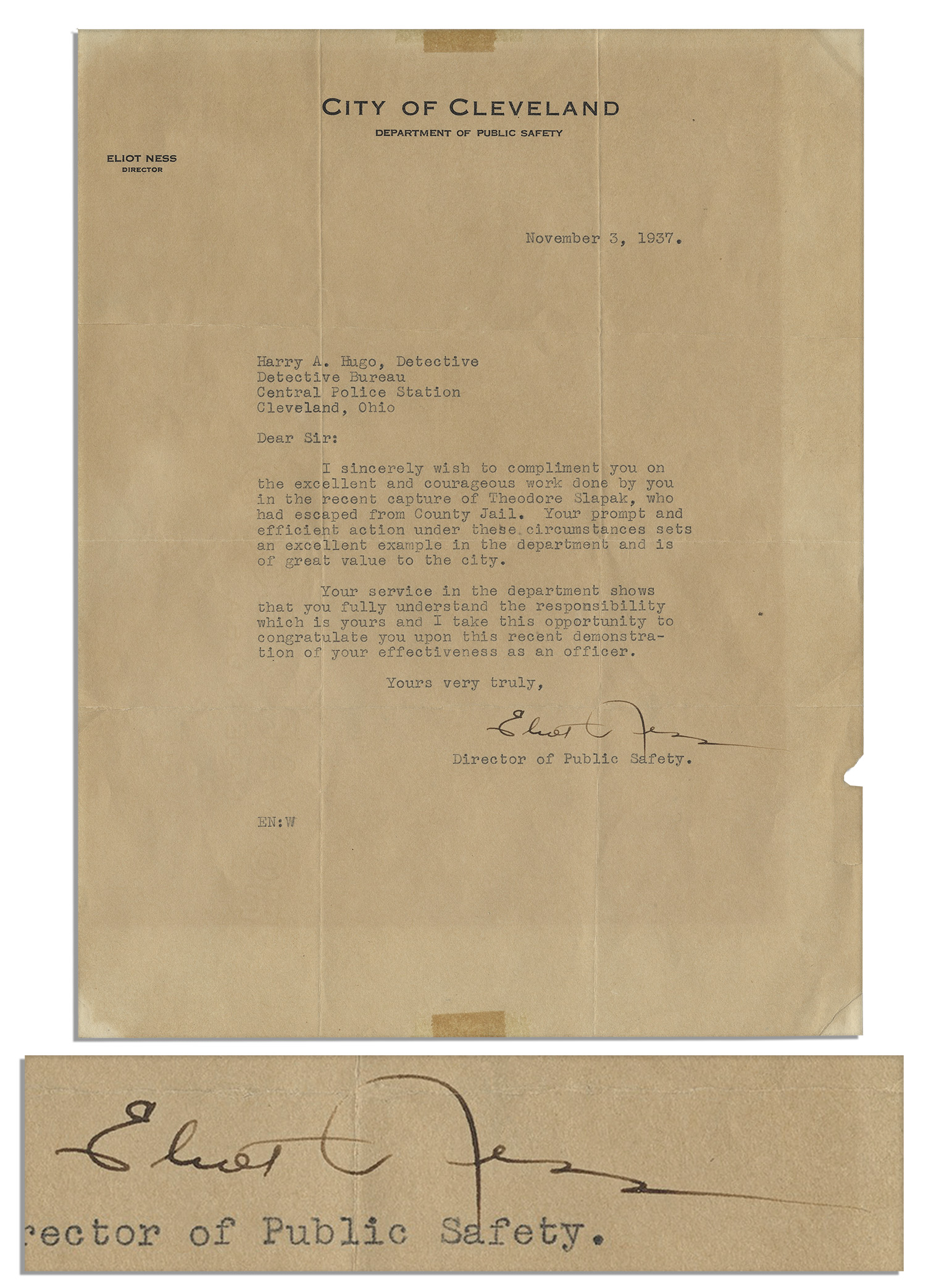 Consign your Eliot Ness autograph at Nate D. Sanders Auctions. Send a description and images of your Eliot Ness autograph to us at Nate@NateDSanders.com.