NateDSanders.com Elizabeth Taylor Costume Auction Nets Great Results
To auction, buy, consign or sell in our next Elizabeth Taylor costume auction, please contact [email protected] or call (310) 440-2982.
Elizabeth Taylor Costume Auction
At NateDSanders.com, we have had many great Elizabeth Taylor items before, but the most talked about are the few costumes we had in our Elizabeth Taylor costume auction.  Keep in mind that more important Elizabeth Taylor costumes can sell for tens of thousands of dollars.  Here are some of the results:
Elizabeth Taylor Screen-Worn Gown From the Film Adaptation of the Hit Stephen Sondheim Musical, "A Little Night Music"
Elizabeth Taylor screen-worn gown from the 1977 film, "A Little Night Music," based on the successful 1973 Sondheim musical. Directed by Harold Prince, the film starred Taylor, Len Cariou, Lesley-Anne Down and Diana Rigg. Taylor played Desiree Armfeldt, a famous actress who tries to seduce a newly married former fling in Austria circa 1900. Custom-made for Elizabeth Taylor by renowned designer Florence Kotz for costumer Barbara Matera, gown has original "Barbara Matera LTD, New York" tag sewn to inseam with "Ms. Taylor" printed on it in typescript. Gown is lilac with a teal chiffon overlay and art nouveau-style floral patterns embroidered at bottom. Costume also includes a boned bodice and ruffled sleeves with attached satin belt. Measures 15" shoulder to shoulder and 57" inches in length, with a train. Dress is delicate where bodice is attached to skirt, else near fine condition overall. From the estate of Elizabeth Taylor and with Christie's provenance.  A great item from our Elizabeth Taylor costume auction.  Sold for $6,083.
Incredible Crew-Signed Copy of "Giant" — Signed by the Movie's Director & Cast Including James Dean, Elizabeth Taylor, Rock Hudson & More
Crew-signed copy of "Giant" by Edna Ferber, published by Pocket Books: New York: 1953. Paperback is signed upon the front pastedown and fly-leaf by the stars of the film: "James Dean", "Elizabeth Taylor", "Rock Hudson", "Jane Withers", "Mercedes McCambridge" and by the director "George Stevens" and special effects designer "Harold Webb". Webb, Withers and McCambridge add a dedication in their hand. James Dean may have signed twice as "James" appears again above Rock Hudson's signature. Book runs 389pp. and measures 4.25" x 6.25", housed in a chocolate leather case with gilt lettering. First leaf is absent. Handwritten note and prior owner's sticker on rear pastedown. Creasing to covers and surface loss to rear cover. Very good condition.  Sold for $5,625.
Elizabeth Taylor's Screen-Worn Costume From "National Velvet" — The Beloved Equestrian Film That Launched Taylor's Spectacular Career
Elizabeth Taylor screen-worn costume from "National Velvet", the classic 1944 picture that made Taylor a star. Twelve-year-old Taylor was cast in the film as Velvet Brown, a girl who fulfills her dream of training her horse and riding it to a first place finish in the Grand National. Pandro S. Berman produced and Clarence Brown directed the family drama, its story adapted from Enid Bagnold's 1935 novel of the same name. During filming, Taylor was thrown from a horse and sustained the back injury that precipitated her eventual addiction to prescription painkillers. Taylor went on to win multiple Academy Awards and is ranked as the #7 greatest actress in the history of film in AFI's famed "100 years, 100 stars" list. One-piece romper garment custom made for Taylor features an off-white upper and blue-violet bottom that closes across the center with violet pearlescent buttons. A single pocket is sewn onto the right leg. Measures 16" across the chest and 14" across the waist. Her handwritten name tag is inside along with production numbers "1315-7706". Also included is the original MGM cleaning tag. Costume was purchased at the 1970 MGM wardrobe sale where Debbie Reynolds bought much of her Hollywood costume collection. Irene costume designed for the film. Photo-matched to show Taylor not only wore this outfit, but wore it on her horse. Age discoloration to fabric on the top, else near fine. A unique item from our Elizabeth Taylor costume auction.
Sold for $4,915
.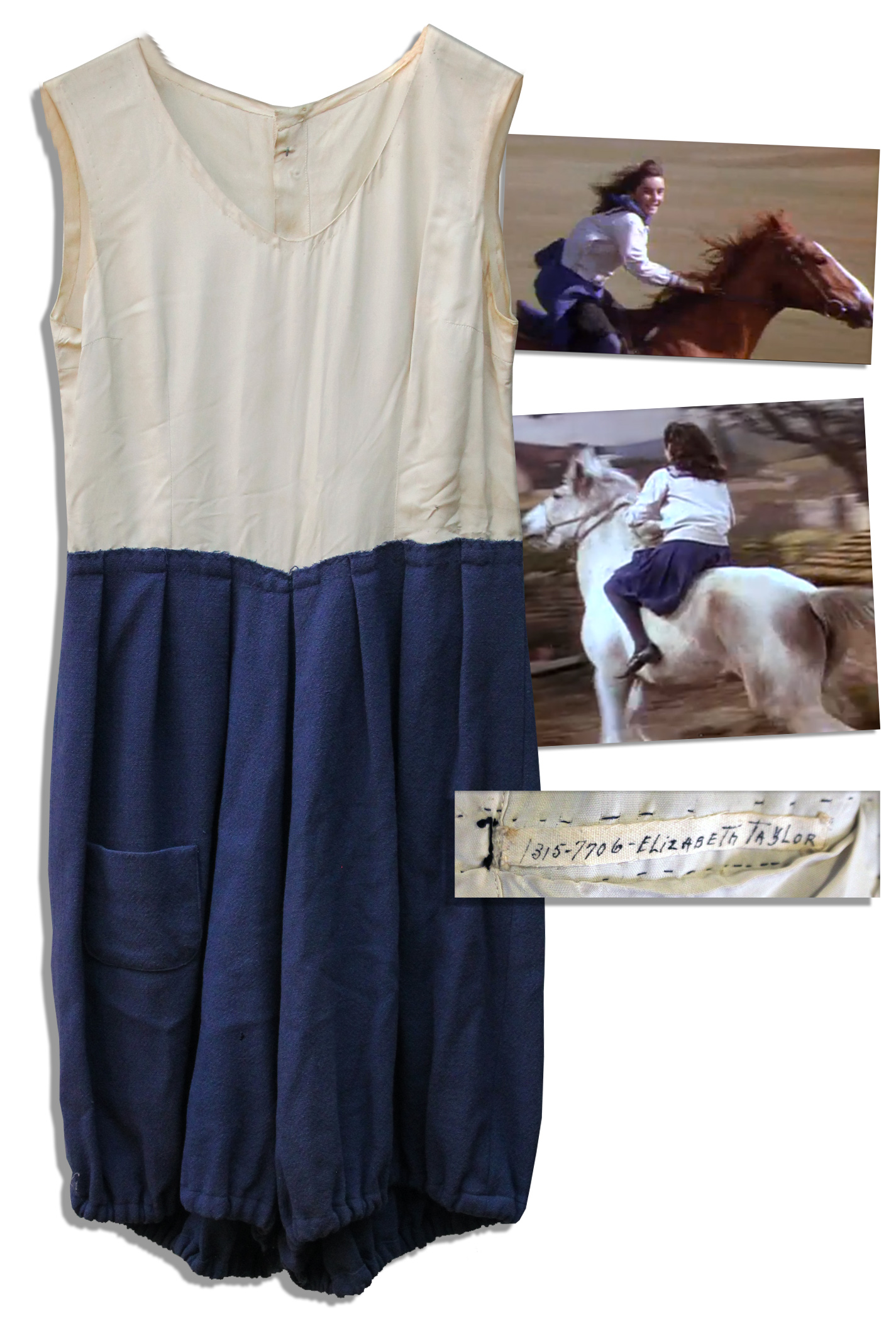 Elizabeth Taylor wardrobe from the 1953 MGM film, "The Girl Who Had Everything". Elegant navy blue silk sleeveless dress was procured by costume designer Helen Rose for Elizabeth Taylor, who starred opposite Fernando Lamas as an attorney's daughter who falls for one of her father's roguish clients. Dress features a nipped-in waist and hemline that hits below the knee. A label sewn inside reads "Elizabeth Taylor". Measures 11.5" across the waist. Some lightening to fabric at center, else near fine. Originally acquired from the famous MGM Archives Sale, held in 1970 to free up space on the studio lot that had been occupied by the thousands of costumes and props used in MGM pictures over the years.  Sold for $1,172.
To auction, buy, consign or sell in our next Elizabeth Taylor costume auction, please contact
[email protected]
or call (310) 440-2982.